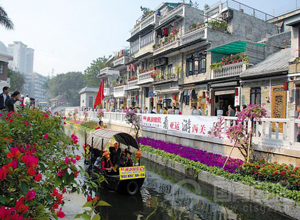 Located in the heart of the historic Xiguan districst and adjacent to the Pearl River, Lizhiwan Creek (Chinese: 荔枝湾) is home to the former sites of many famous people and gardens, as well as a well-known scenic spot in Guangzhou. it was listed as one of the eight scenic spots in Guangzhou in the Ming Dynasty (1368–1644).
Around the watercourse of Lizhiwan Creek, is the Xiguan Ancient Houses, where the cultural essence of Guangzhou lies, just like the Hutongs of Beijing  and Li-Long of Shanghai. Xiguan Museum has also been built.
Important historic sites include Liang Ancestral Hall, Liwan Lake, Haishan Xian Guan Garden, Former Residence of Jiang Guangnai, Liwan Museum, Wen Pagoda, and  Renwei Temple.
It is better to visit the Lizhiwan Creek on a rainy day. Strolling on the Longjing Bridge, you may lean against the rails in the drizzles to appreciate the boats swaying in the river, while your mind has already drifted away to earlier times. On sunny days brilliant flowers on both banks competing to bloom will make the stream filled with reflections of sunlight and colour.
A Lizhiwan creek cruise is a suggested activity. You may buy tickets in front of the Liang Ancestral Hall. Along your trip you may experience the local customs of Xiguan while listening to the singing of Cantonese music by Si Huo Ju (private institutions). Twenty-minute's cruise will take you to the Liwan Lake, during which a staff will introduce the information about the creek.
Here you may also try some local Xiguan specialities like rice flour noodles, Kuih lapis, Tingzai porridge, Qingping chicken, and cured meat.
Got a question? Ask us here. We will reply to you within 12 hours.