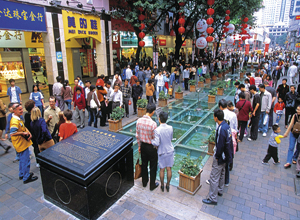 Beijing Road Pedestrian Street (Chinese: 北京路步行街) is a bustling commercial street in all ages of Guangzhou, located in the city center.  In the middle of the road, there is a part of ancient road underground. It is now dug out and show for free all around the day. The site tells people that Beijing Road has existed here for nearly one thousand years.
Beijing Road Pedestrian Street is the busiest pedestrian street in Guangzhou. There are shopping malls, department stores, clothes shops, supermarkets, book stores, restaurants, sports goods shops, musical instrument stores and other shops.  From this road, you can get lots of cheap goods that really are fit for westerners and you will be surprised to find that fashion clothes there are so cheap. Bargin is necessary.
Beijing Lu is reachable by the GongYuanQian station of Metro Line 1 or 2.
Got a question? Ask us here. We will reply to you within 12 hours.