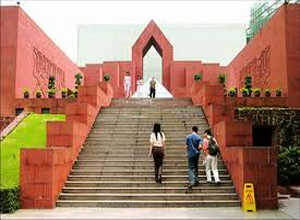 Nanyue King's Tomb Musem (Chinese: 南越王墓博物馆) is located in Jiefangbei Road, Yuexiu District, Guangzhou. The owner of the tomb is the second king of Nanyue, Zhao Mo (r. 137 BC – 122 BC).It is well known for its well-preserved tomb and the most burial artifacts from the Han Dynasty in the Lingnan (south the Nanling Mountain) area.
Hidden 20 meters underground, covering 14,000 square meters, the tomn is made up of 750 huge stones with colorful murals, and houses over 1,000 pieces of cultural relics, gold and silver vessels, musical instruments and terra cotta wares in particular, featuring the Nanyue culture. There are even  human sacrifices of 15 courtiers to be buried alive with the king. Alongside Chinese artifacts, pieces from the Iranian and Hellenistic Central Asian regions have been found; a Persian silver box found in the tomb is the earliest imported product found to date in China.
The Spotlight of the mausoleum is a silk-jade garment made up of 2,291 pieces of jade. The garment is unique for its jade pieces connected by silk which makes it the only one of its kind in the world.
Admission: CNY12
Got a question? Ask us here. We will reply to you within 12 hours.