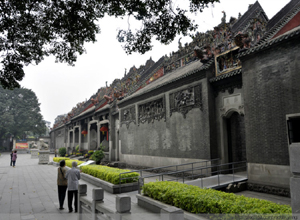 Chen Clan Academy (Chinese: 陈家祠) was a place both for offering up sacrifices to ancestors and for their clansman to study for the imperial examination. Now it serves as Guangdong Folk Art Museum.
In the late of the Qing Dynasty, a man named Chen got the third place in the highest imperial examination and had been conferred upon a distinguished office title which made the Family Chen well-known. Later someone suggested that all the Chen's families raise money to build a temple to sacrifice to the ancestors and encourage their offspring likewise to study hard. Therefore, the temple was finished in 1894 with the money donated by Chen's families in 72 counties of Guangdong Province as well as some overseas members of Family Chen.
The Chen Clan Academy is a traditional Chinese academic complex covering 13,200 square meters. It is notable for the rich decoration of wood carving, stone carving, brick carving, pottery, plaster and iron engraving, which exist inside, outside the halls and in almost every beams, ridges, walls and columns. The content of these decoration are mostly flowers, birds, Cantonese fruits and scenes in traditional dramas.
Admission: CNY10
Got a question? Ask us here. We will reply to you within 12 hours.