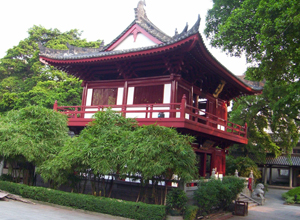 Six Banyan Tree Temple (Chinese:六榕寺) is an ancient Buddhist temple in Guangzhou, with a history of more than 1400 years. The temple got its current name from a great poet called Su Dongpo because of the six banyan trees he saw there. The vitality of the trees put him in a good mood and cheered him up. When the abbot of the monastery invited him to suggest a name, Su Dongpo wrote down its present name.
The temple is most attractive for the elegent Six Banyan Pagoda or Flower Pagoda inside. The pagoda is an octagonal building, reaching up seventeen storeys.  It is where the Buddhist relics are placed.The pagoda not only has a nice appearance, but also provides visitors a good place to overlook enchanting scenery around. There are hundreds of small posing Buddha's peering out at visitors as they make the climb up the steep stairs.
Burning joss sticks is a Buddhist etiquette not to miss when visiting there. Numerous people come to burn the joss stick in order to be blessed by gods.
Admission Fee: CNY 5 (Six Banyan Temple); CNY10 (Six Banyan Pagoda)
Got a question? Ask us here. We will reply to you within 12 hours.