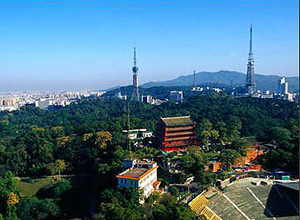 Yue Xiu Park (Chinese: 越秀公园) is the largest park in downtown Guangzhou. It is made up of three artificial lakes and seven hills. The park is well known for its beautiful scenery as well as its numerous cultural relics and historic sites. The main places of interest include the Five Rams stone sculpture, Zhenhai Tower, the rioms of the Ming Dynasty City Wall, and Square Cannon Site and Sun Yat-sen Monument.
The Five-Ram statute is one of the most famous structures in Guangzhou. It has become the emblem of the city. There is a legend about the city. More than 2,000 years ago, the city was a barren land with people suffering from famine despite their hard work. Fiive immortals came riding on five rams, which held sheaves of rice in their mouths. The immortals left the sheaves of rice for the local people, gave blessings to the city and left. The rams turned into stone and the city became abundant. Due to the legend, Guangzhou got the name of 'City of Rams' and is still such nicknamed.
The three artificial lakes, Dongxiu, Nanxiu, and Beixiu cover an area of more than 50,000 square meters.The lakes are connected with arch bridges and decorated with pavilions and corridors in the Lingnan Style. Dongxiu Lake and Nanxiu Lake are good places for painting and Beixiu Lake is open for boating and fishing. Flower exhibitions are held here from time to time because it is green all year round.
As a large comprehensive park, Yuexiu Park has all the entertainment facilitis, including an amusement park, restaurants, gymnasium, swimming pool, stalls, and museum.
The park is directly accessible from Yuexiu Park Station (Exit B1), Subway Line 2.
Admission: Free
Got a question? Ask us here. We will reply to you within 12 hours.